On Saturday, May 4, as part of the 18th annual Comcast Cares Day, nearly 1,000 Northern California Comcast NBCUniversal employees and their families, friends and community partners worked alongside Paradise High School students, teachers and administrators to clean, paint, plant trees, landscape and beautify the campus ahead of this June's graduation ceremony, which will be the first since the devastating Camp Fire in Fall of 2018.
On Nov. 8, 2018, the lives of Paradise residents were changed forever when the Camp Fire destroyed most of the city, killing 86 people, destroying nearly 14,000 homes and numerous businesses and burning more than 150,000 acres. Thankfully, and perhaps miraculously, the structure of Paradise High School was mostly spared. Still, due to safety hazards and other concerns, classes were moved to a temporary location in Chico and plans remain underway for a full return to the Paradise campus in time for the new school year this Fall.
A signature project on Comcast Cares Day involved the painting of a mural by the artist and former Chico resident, Shane Grammer, whose portrait of a woman on a friend's chimney went viral shortly after the Paradise fire. When Comcast learned that the Paradise High School seniors wanted to engage Grammer to create a mural as a thank you to the school, and as something to remember them by, the company stepped in to fund the effort.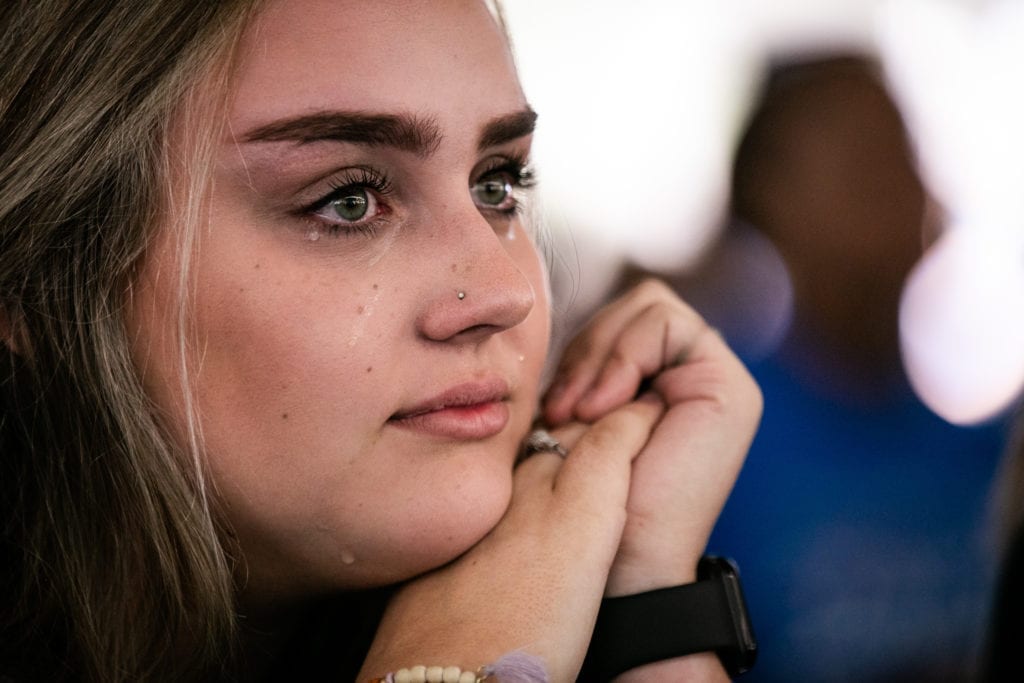 During a special ceremony at the school Saturday morning, featuring Comcast executives, Congressman Doug LaMalfa and California State Senator Jim Nielsen, Comcast also announced that 238 graduating seniors from Paradise will receive a laptop computer.
Paradise High School students and educators pride themselves on their resilience. The school's longtime motto "Rise Up" is a fitting way to describe the grit, courage and determination displayed throughout the community. It was in this spirit that Comcast, as part of Cares Day, approached Paradise High School administrators offering to help refurbish, restore and renew the campus exteriors, common areas and school grounds in preparation for June's graduation ceremony.
"We are grateful for Comcast's support as we work to provide our graduating seniors with the celebration they deserve as they embark on the next stage of their life journeys," said Michelle John, Superintendent, Paradise Unified School District. "There is no way to describe the horror and devastation of the fire. But when the community comes together like this and we have partners like Comcast so willing to help – and who truly care – it lifts our spirits and gives us hope. It sets the exact tone you want for any senior graduating from high school, let alone these young people – that the future is bright, that anything is possible and that everyone around you believes in your potential and is standing by to help make your journey the best it can possibly be."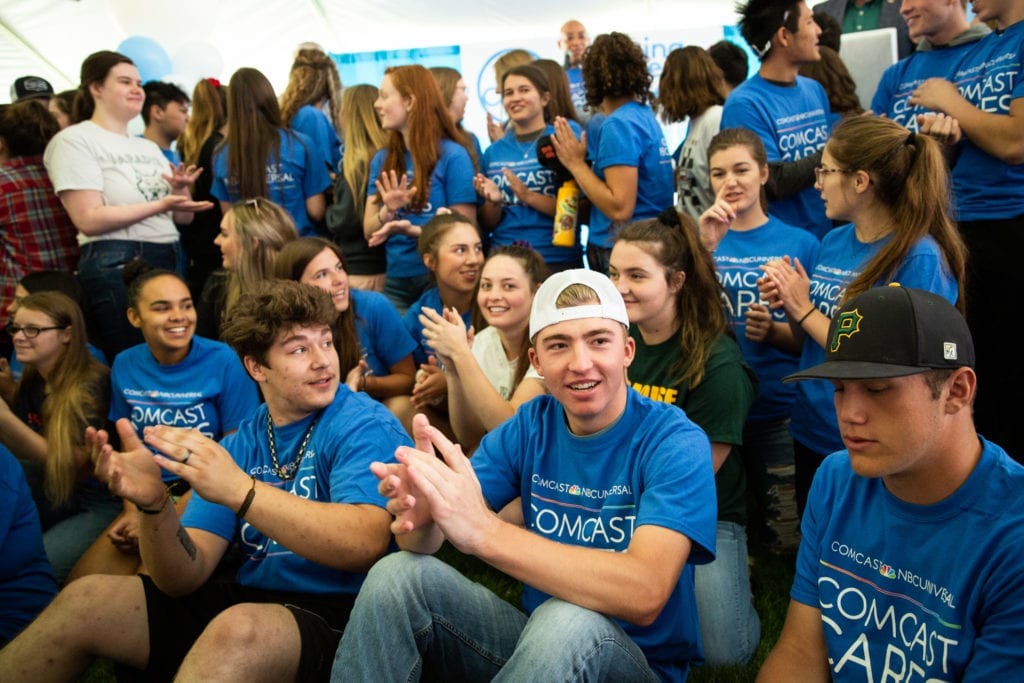 "Having gone through two consecutive years of devastating fires in California, we have experienced the tragedy right alongside the members of our communities," said John Gauder, Senior Vice President of Comcast's California Region. Our families, our friends and our Comcast employees who live and work in Paradise have gone through this together. So when we ask, 'how can we help?' we don't just mean for today or tomorrow, although we sought to do everything we could from the moment the tragedy started. We are here to help in Paradise and across our service areas throughout California on Cares Day, all year round and into the future."
Comcast Cares Day is more than just a day – it is an illustration of the spirit of volunteerism that Comcast employees bring to life each and every day.  From using technology to create positive change, such as teaching digital literacy skills and mentoring youth, to stocking food banks, revitalizing homeless shelters and beautifying parks, Comcast NBCUniversal employees volunteer during this celebration and throughout the year to make a lasting impact.  To date, more than 1 million Comcast Cares Day volunteers have contributed over 6 million service hours to improve local communities at more than 10,000 projects.  This year, the Company expects more than 100,000 volunteers from Comcast, NBCUniversal, and for the first time Sky, to participate in projects across the country and around the world.
The Comcast NBCUniversal Foundation will also provide grants to local partner organizations on behalf of volunteers who contribute their time on Comcast Cares Day. The grants will help Comcast's partners continue their mission of serving the community throughout the year.  To date, the Comcast NBCUniversal Foundation has awarded nearly $25 million in grants to local nonprofit organizations who have served as partners on Comcast Cares Day.
For more information on Comcast NBCUniversal and Sky volunteer and community impact initiatives, visit www.comcast.com/community.