By Virginia Duan
This is the third post in a series of blog posts sponsored by Comcast . All opinions are mine and mine alone.
I forgot what it felt like.
I forgot what it meant to be seen and seen fully. As a person; not token.
On the night of May 15, 2019, in an Xfinity Store full of Asian American celebrities, professionals, and journalists celebrating the long term partnership between Comcast and the San Francisco Chinese Chamber of Commerce, I remembered.
For the first time in almost a year, I was surrounded by Asian Americans who were not either my family or friends. Ok, that's not entirely true. A few weeks ago, I attended a concert by Korean hiphop band, Epik High, but that's not quite the same thing as an intimate event.
As I shoveled appetizers in my mouth (gracefully, of course) and drank wine (to give me courage), I chatted and networked and passed out business cards. Something inside me eased.
…
Forgive me. I started in the middle and not at the beginning.
For at least two months, I have been lowkey freaking out about this cocktail party.
All I could think about was being in a room full of important people. People like global singer and YouTube sensation, Jason Chen; actress/dancer/model, Lucia Liu; various Asian American journalists; Comcast executives; and respected members of the San Francisco Chinese Chamber of Commerce.
All these impressive people and then me, a lumpy writer whose daily life consisted of chasing after four small humans.
I fretted about my outfit. My makeup. My hair.
Which really isn't like me because normally, I don't make any effort at all because of the aforementioned small humans. Why care when my life's work was being a mobile napkin?
But despite my chosen style of Costco Couture, I couldn't shake the feeling that I was an actual potato. Some of it was your typical middle-aged dissatisfaction with the widening and lowering of my physical body. Some of it was disbelief that I, an Asian American woman, was worth inviting as myself.
So I did what I normally do when faced with a problem: I threw money at it. Specifically, at Susanna Stroberg, owner of OPIVU Salon in Danville, CA.
I didn't even have to explain my reasoning. Susanna knew. As a small business owner from a multi-ethnic background and as a new mother, she knew deep in her bones the alienation of being othered. Of not being enough.
Always being shunted to the side, forced to play the best friend instead of commanding the lead.
Don't we all deserve to be the main story? Isn't that why I was so excited about being on the Comcast Parade Float? Why I got choked up during the 2019 Chinese New Year Festival & Parade?
This is why it's so important when media companies like Comcast launch specially curated collections of Asian American shows, movies, music, and podcasts that can be accessed year round on-demand and not just during Asian American and Pacific Islander Heritage Month. Or why providing English-language and in-language content in Chinese, Japanese, Korean, Tagalog, Vietnamese, and Hindi matters.
The fact that until May 31, Xfinity X1 customers can say, "Asian American" into their voice remote and then access 2,500 hours of content across platforms for free – I still find it hard to believe. (After May 31, you can subscribe to those channels for access.)
When I was growing up, assuming I even knew about the content, there was no way to access K-Drama hits like The Fiery Priest; box office hits like Lost in Thailand; let alone a series of interviews with popular South Korean boy band NCT 127.
It would have never been on my radar.
This is only possible now due to the service I personally use the most from Comcast: the internet. What a time to be alive.
But I'm getting ahead of myself.
Susanna magicked my hair and makeup. I commuted from the suburbs into San Francisco on a rainy night. I repeated to myself, "I will not be afraid. I will not hide. I will talk to people who I think are more impressive and interesting than I am. I will not be intruding. I will be doing my job. This is my job. I can do this."
I need not have worried.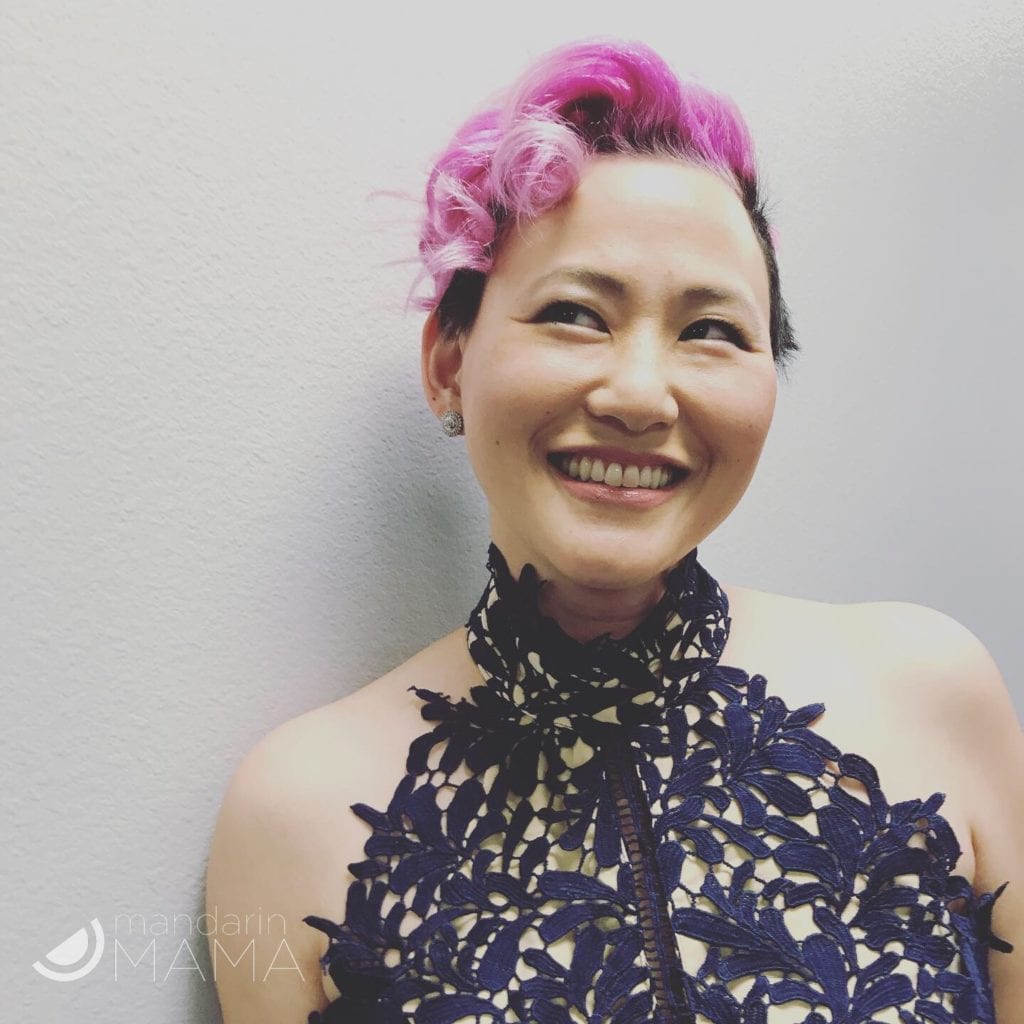 I opened the double doors on Geary Blvd and saw Sandra Lucas-Santos, a Comcast employee who befriended me the day of the parade, checking in guests. Then Lavel Brady, another Comcast employee, swooped by and asked for a hug.
One after another, I saw familiar people from previous Comcast events who thanked me for my work and remembered me and my family. Jason and Lucia, actual YouTube celebrities who my friends recognize by face alone, welcomed me and asked after my children.
If you're curious about Jason and Lucia's experience with Comcast and the San Francisco Chinese Chamber of Commerce, check out their vlog below:
There had never been anything to fear. I had forgotten what I wrote after the parade:
Comcast the company dedicates their resources to the Asian American community, but it's their employees – Asian American or otherwise – that translate and embody a corporate missive into action and real world application.
Since January, Comcast has participated in over 12 San Francisco Chinese Chamber of Commerce events, including the Miss Chinatown USA Pageant. This year, for the first time in the 60 year history of the pageant, there was a Comcast Community Service Award. Brittany Lau from Chicago won for her volunteer work with senior citizens in Chicago's Chinatown.
Such a small thing for a big company to do, and yet, an award such as this will reverberate throughout the lives of Brittany and future winners – and all the lives they, in turn, touch.
As someone who makes my living on the internet and social media, you would think I would've figure it out sooner. But it wasn't until the drive home that I realized the real service Comcast provides isn't specific content or media.
The real service is connection. A sense of belonging. A chance to not feel so alone.
Comcast literally connects us to the world and each other.
How else would Asian American kids searching for Asian artists, actors, singers, dancers, and musicians find talent like Jason and Lucia? Here's a video of Jason's performance from the event:
You can find the rest of his performance here and here.
As a child, I would never have imagined it. To be surrounded by talent that was not only Asian but also American? To see my people innovate, create beauty, and thrive? And more bewilderingly, to have a multi-media company of Comcast's caliber, power, and reach highlight our stories?
What else can we do but step into that spotlight?
Virginia Duan is a writer at Mandarin Mama who discusses her grief and rage over her upbringing, its reverberations throughout her past and into her present, and healing for the future. She blathers about all things TMI and fangirls especially about BTS. She also writes about identity issues via the medium of teaching her kids Chinese.