Calling all Sacramento dog owners! Does your dog have what it takes to be crowned Fastest Dog in Sacramento? Join Comcast and SacTownDogs for Sacramento's first-ever "Comcast Zoomies: A Dog Speed Challenge" to showcase your pup's real speed while raising money for the Sacramento SPCA. 
"Zoomies," a common phenomenon in which dogs spontaneously sprint out of unbridled excitement, is a universal experience for pets of all kinds: young or old, big or small, fuzzy or sleek.  
"Dogs have had a great year with so many of their owners staying home," said Sarah Madden of SacTownDogs. "'Zoomies' bring unexpected joy into our daily lives, and we're delighted to partner with Comcast to spread that joy across the greater Sacramento region while supporting the important work of the Sacramento SPCA." 
From June 21 through July 12, contestants can upload entertaining videos of their dogs doing "Zoomies" via Instagram using the hashtag #ZoomingForGold and tagging @SacTownDogs. Video submissions will be screened for speed, skill, humor and creativity, and the final entries will be scored by a panel of judges at a virtual event in August.  
"Pet adoptions have been at record highs, and animal companionship has served as a huge source of support and joy for many – especially during the COVID-19 pandemic," said Keith Turner, Vice President of Sales and Marketing, Comcast California.  "As we emerge out of a difficult year, the Comcast Zoomies contest offers a lighthearted and fun way for pet owners to show off their companions' personalities for a good cause."  
Ten finalists will be selected to have their videos judged on August 12, 2021 at a fun-filled virtual event. Finalists will receive a gift box with a gift certificate, treats and toys, and the top three winners will have a donation made in their pet's name to the Sacramento SPCA in the amount of $3,000, $2,000 and $1,000, respectively.  
"As the only full-service, 100% non-profit animal shelter in the Sacramento region, the Sacramento SPCA is grateful to partner with Comcast and SacTownDogs for the Zoomies contest to support our life-saving work," said Dawn Foster, Director of Marketing & Communications at the Sacramento SPCA. "This is not only a great opportunity to celebrate the pets in our lives, but it also helps the Sacramento SPCA positively impact the lives of the more than 30,000 animals that come through our doors each year."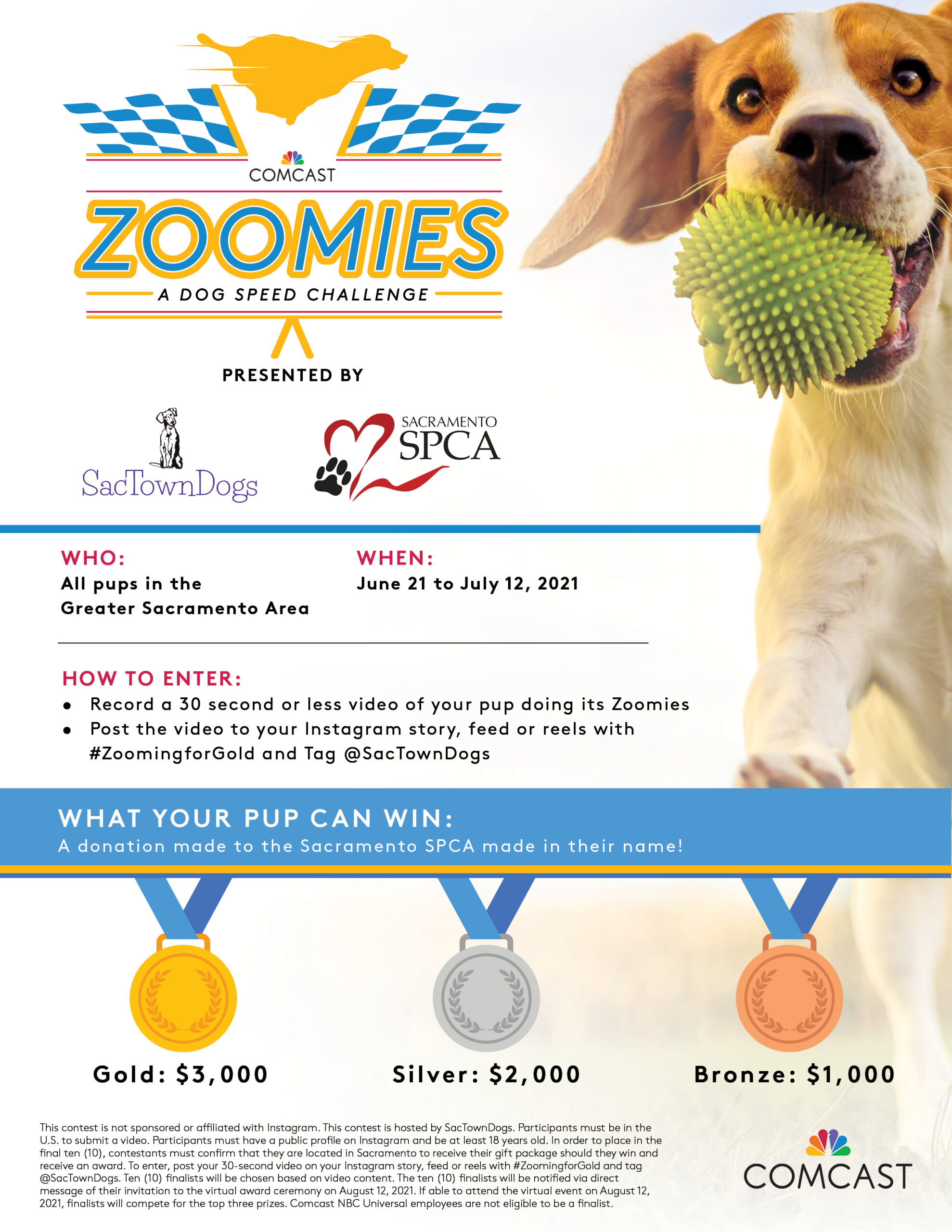 Contest Details

:

 

This contest is hosted by 

SacTownDogs

. Participants must be in the U.S. to submit a video

. Participants must have a public profile on Instagram and be at least 18 years old.

 In order to place in the final ten (10

), contestants must confirm that they 

are located in

 Sacramento to receive their gift package should they win and receive an award.

 To enter, post your 30-second video on your story, feed or reels with #ZoomingforGold and tag @SacTownDogs. Ten (10) finalists will be chosen based on video content. The ten (10) finalists will be notified via direct message of their invitation to the virtual award ceremony on August 12, 2021. If able to attend the virtual event on August 12, 2021, finalists will compete for the top three prizes. Comcast NBC Universal employees are not eligible to be a finalist.