Comcast crews continued to work throughout the day last night and today and have made great progress in restoring services back to residential and commercial customers. As of today, there are approximately 850 customers without Comcast services—the majority of the customers who remain offline are due to commercial power outages.
Comcast services require commercial power to operate and we're seeing in areas where there are currently downed poles, our technicians must allow PG&E crews to assess and repair any damages that may have occurred before being able to restore our services. Comcast field technicians are currently also assessing other areas to deploy generators and will do so where it is safe and feasible.
Today, Comcast crews deployed additional generators in the Grass Valley area and that allowed our team to bring several hundred customers back online despite the current power outage. Safely placing these generators is particularly challenging because of the quantity of snow in the area. In order to place them properly and safely, it is necessary to excavate and plow deep pockets of snow – roughly the size and square feet to place a small, compact size car.
"Snowstorms are unique in terms of a natural disaster as they pose a number of obstacles to restoring services. The strong winds and snow, bring down trees along with poles and block the roads. We are working very closely with the affected counties and utility entities to clear the debris and bring the necessary assets to the various communities as safely and as quickly as possible," said Jeff Votaw, Vice President of Engineering for Comcast California. "So far, we have identified approximately 100 locations that require construction to restore services and we have brought additional resources as we are able to access neighborhoods."
As our teams are able to access more remote areas, we're quickly assessing the damages made and finding quick, reliable solutions to get them fixed. In a neighborhood in Pollock Pines, for example, our crews found out the source of an outage was due to an amplifier being damaged by the storm. An amplifier is a piece of equipment that is placed on poles to strengthen our signal and since the storm damaged the cables on our pole.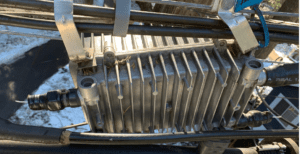 "Our tools tell us where we have customers without service, but we must get our crews physically into the area to resolve the outage," said Wesley Tripp, Network Engineer Manager at Comcast California. "Some examples of what we are finding as we assess the damage are down lines from fallen trees and individual service connection points torn away from homes from falling branches.  Once we find the issue, we can assign the right resources to get the customer back online."
For those remaining Xfinity and Comcast Business customers experiencing a service interruption can sign up for an outage resolution notification in their My Account App to receive a text message when service is restored. These apps are helpful sources of information for all customers.
We want to remind our customers that the Xfinity Stream App allows users to download their favorite shows and movies to watch offline, watch live TV and get weather updates.
For more information about commercial power outages, you can visit PG&E's Outage Map. You can also visit Comcast's Network Impact Map for information and updates.