The annual San Francisco Chinese New Year Parade and Festival is back in person this year for the first time since 2020. Comcast has been a part of the festivities for four years now as a sponsor of the parade and an active participant in the month-long activities. 
A staple of these celebrations is the Miss Chinatown USA Pageant, which began in 1953 and expanded to a national competition in 1958. Women from all over the country now come to San Francisco during Chinese New Year to compete for scholarships and prizes in the annual Miss Chinatown USA Pageant. Each year's winners become goodwill ambassadors for the Chinese community throughout the new lunar year.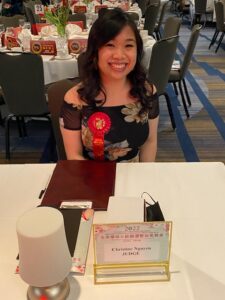 In 2020, Comcast began the Comcast Community Impact Award, which recognizes community involvement by the pageant participants. This year the pageant was held on February 12 and Comcast Project Manager, Christine Nguyen, attended the event to help award the winner. Christine also served as a judge who would decide who took home the title of Miss Chinatown USA. 
The title went to Vanessa Guo of Boston, MA, who also won 3rd Princess in the competition. Vanessa was born in Beijing and graduated from UC Berkeley with double majors in Statistics and Music. She then earned her master's degree at MIT and currently works as a consultant in Boston.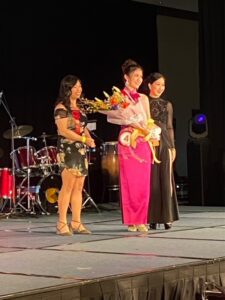 Vanessa's community service is extensive as she serves on the board of MIT Chinese Entrepreneurs organization, co-founded an MIT Startup Connect Series and uses her musical talents to entertain and educate her community. 
Congratulations to Vanessa and all the other women who competed in the Miss Chinatown USA Pageant!  
Learn more about the pageant's history and who took home the crown here.