Comcast creates technology and entertainment that connects people to the moments and experiences that matter. This is true worldwide, but also in our local communities.  
Last weekend, the Xfinity store at Fashion Fair Mall hosted a meet and greet with Spanish language radio personality, Don Cheto.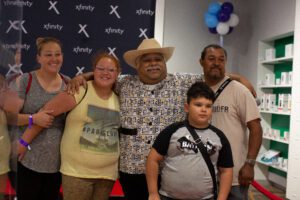 Over 200 people lined up outside the Xfinity store to meet the outspoken and beloved 65-year-old immigrant from Michoacan, Mexico, and star of Don Cheto al Aire, a family-friendly radio show with multigenerational appeal among Latinos of all ages, genders, and walks of life. Since 2005, the show has covered topics ranging from news headlines, sports, and current events to human interest stories, games, and contests, all done in a humorous and culturally relevant format. Featuring regional Mexican music and in-studio guests, the Don Cheto Al Aire show is syndicated in 34 markets in the U.S. and Mexico, including Fresno's station La Buena 101.9 FM.  
Don Cheto is a Mexican immigrant who shares his experiences in both Mexico and the United States with a comedic spin to millions of listeners. Don Cheto, as he tells it, has been in the U.S. for 30 years, speaks enough English to get by, and has papers to legally reside in this country.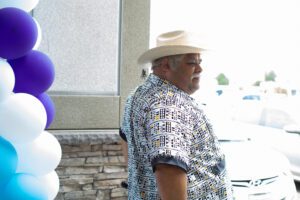 He is also a fictional character played by 40-year-old Juan Carlos Razo. Razo is originally from a farm town in Michoacan, Mexico, and wears a costume and make-up for six hours a day, five days a week.
In Fresno, devoted fans of all ages lined up before the Xfinity store even opened. Fans across California drove for the meet and greet, bringing him sentimental gifts and homemade food. Some fans broke out in tears after meeting him, which goes to show the impact Razo's character has made on his listeners. One fan even asked Razo to autograph her arm so she could get it tattooed.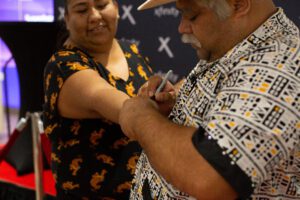 Don Cheto is a staple in the Latin community and is as dedicated to his fans as they were to him. He went above and beyond to connect with everyone that came to see him. He recorded videos for family members that could not attend, joked, and engaged with the crowd.   
Attendees also had the opportunity to learn about Xfinity products and services while enjoying music, a magic show, food, and refreshments, giving our staff an opportunity to thank and engage with the local community.