The FIFA World Cup 2022TM is ringing in the Thanksgiving holiday as a favorite strong contender giving Football and the turkey a run for its money. Comcast is excited for the FIFA World Cup 2022TM and is spending this tournament season celebrating with the Central Valley.  
On November 12th, Comcast hosted a Grand Opening Celebration to launch a new Xfinity retail store in the City of Merced. Players from the Fresno Fuego and the team's mascot, Fuego El Fox, spent the day meeting fans over snacks and refreshments.  
Soccer fans, families, and children lined up to chat with their favorite players. Conversations flowed between discussing their love for the Fresno Fuego, sharing which World Cup matches they are most anticipating and debating which team they believe will ultimately bring the Cup home. There was even an unexpected soccer player showdown as players from Merced United, the local youth soccer team, made a surprise appearance as well, stealing the show from the Fresno Fuego.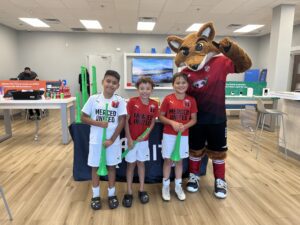 To keep the party and competition going, Xfinity is showering Biola, a rural community located northwest of Fresno, with World Cup goodies just in time for the Mexico vs. Argentina match in Lusail Stadium.  
On Saturday, November 26th, from 8:30 – 10:30 AM, Comcast will be hosting a World Cup Celebration at the Biola Community Center. And guess what? We're bringing the Fresno Fuego with us to this party as well. Join us for a meet and greet with the Fresno Fuego and Fuego El Fox. There will be breakfast bites, games, and prizes to get us pumped up for the matches of the day.  
Don't worry, the party doesn't stop there. The first 100 people to attend will be gifted an exclusive, curated World Cup Watch Kit so you can enjoy the match at home with Comcast.  
Comcast is not a stranger in the area. Earlier this year, Comcast scored a goal by investing $1 million to bring high-speed broadband to Biola, bringing Xfinity and Comcast Business services and Internet Essentials to the local community. The Biola Community Center, where the World Cup Celebration will be hosted, is also a Comcast Lift Zone. As a Lift Zone, Biola Community Center is able to provide free high-speed WiFi access to level the playing field and keep students, seniors, community members, and families plugged in.  
Through these investments and by providing reliable WiFi service at multiple educational and community spaces, as well as to homes and businesses, Comcast has helped thousands in the Central Valley get online and more fully participate in the digital economy, taking teamwork and solidarity beyond the game and into action.