For over 4 years, Dillon Auyoung has been a proud Comcaster, working as the Director of Government Affairs for the San Francisco Bay Area. He is also currently one of the co-leads for Comcast's Asian Pacific American (APA) Employee Resource Group, coordinating events and meetings for the California APA members to gather and unite as a community.
As San Francisco's Lunar New Year festivities come to a close, Dillon reminisces about his experience as an Asian American growing up in the Bay Area and reflects on what Lunar New Year means to him. Today, he'll be sharing his story with us:
With the smell of incense filling the San Francisco air and a sea of red and gold decorations consuming my neighborhood, I always knew when Lunar New Year was on its way. These were tell-tale signs that it was time to get my cousins, aunts, and uncles together and go to Po Po's (grandma's) house. During this time of year, the house was always filled with laughter, the smell of Po Po's infamous cooking, and of course, the sound of KTSF's Lunar New Year Parade programming playing in the background.
It always seemed to be raining or too cold on the day of the parade, so my family would opt to stay in and watch the parade instead. As long as I was with my family, got my lai-see (red envelopes), and could stuff my mouth with as much nin gou (new year rice cake) as I wanted, it didn't matter where we were.
Now looking back, I simply defined Lunar New Year as a time for my extended family, food, and lai-see when I was growing up. However, after having a family of my own and being able to participate in-person for the first time at the San Francisco Lunar New Year Parade through Comcast, I have re-defined it with a greater purpose. It is a time to honor our culture and heritage together as we welcome a new year filled with hope and prosperity with our extended, extended family: the community.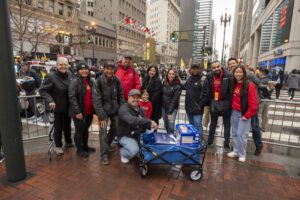 Experiencing the parade firsthand with Comcast for the past four years has been a surreal adventure. Rather than watching the parade floats go by on the TV screen, I am now a part of the parade, standing and waving to my parents from the Comcast float with my family and my peers from Comcast's Asian Pacific American Employee Resource Group. We stand together proud of our heritage, resilience, and strength in the face of adversity and excited for the new year that lies ahead.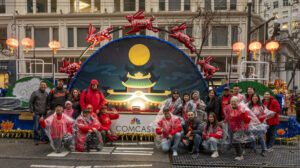 It is truly a full circle moment, and I am grateful to share it with my wife Trish and my daughter Nadia each year. Because of this, Nadia has a deeper understanding of the Lunar New Year than I did growing up. From watching lion dances to eating daan tat (egg tarts) to visiting the booths at the festival, she learns from experience about the underlying symbolism behind the zodiac, the different elements of Chinese culture, and the multi-faceted aspects of being Asian American. Seeing the community unite to celebrate together shows her how culture and community transcend adversity. The best part is that I am continuing to learn and grow alongside her year after year. Nadia was born in 2011, the last time it was the Year of the Rabbit, so the 2023 celebration and the return of the Rabbit are especially meaningful to us.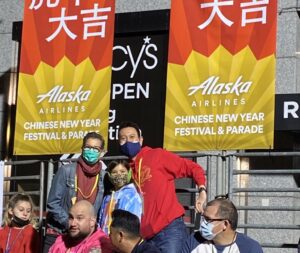 This year, in addition to participating in the parade, Comcast also hosted a Comcast RISE Marketplace at the Chinese New Year Community Street Fair in Chinatown, San Francisco. The marketplace featured local, Asian-owned small businesses and RISE recipients, Immedium and Socola Chocolatier. The two vendors were a hit at the market, selling children's books centered around Asian culture and chocolates inspired by Vietnamese flavors. Chef Martin Yan even stopped by to pay a visit! It was truly an amazing experience to see these two small businesses come together and celebrate their culture with the community.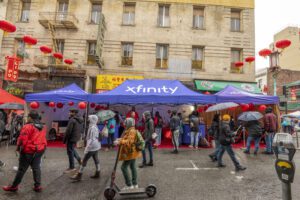 Thanks to Comcast, my family gets to experience our culture and Lunar New Year in a whole new way. As an employee, I am proud to work for a company that invests in an organizational culture where employees can both be and belong.
On behalf of myself and Comcast, we wish everyone a prosperous Year of the Rabbit filled with good fortune, health, and hope!