It's true, at Comcast we pride ourselves for celebrating and uplifting inclusion and diversity across our team and the communities we serve.
This year, just like in previous years, Comcast California participated in one of the largest pride festivals in the world, the San Francisco Pride Parade.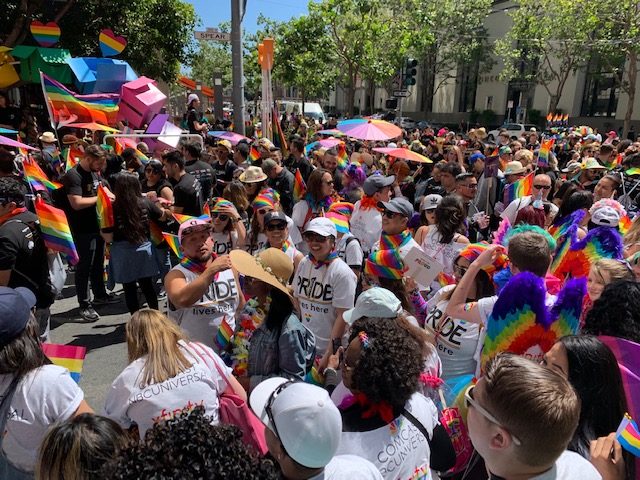 Last Sunday, June 30, 2019, nearly 300 Comcast NBCUniversal employees, including those from our sister companies, Comcast Spotlight, Comcast Innovation Center, NBC News Bay Area, NBC Sports Bay Area, and Telemundo 48, took the streets of San Francisco in support of the LGBTQ+ community.
"It's so important that organizations like Comcast and others come here to Pride and celebrate the diversity that we have in our employees and customers," said Beth Hester, Vice President of External Affairs at Comcast California.
Kicking off the Pride festivities, Comcasters walked alongside the Comcast float that commemorated the Stonewall 50 riots, a historical event that ignited the fight for equality of the LGBTQ+ community.
"The Stonewall Riots were one of the first efforts to secure our rights as LGTBQ and we wanted to bring that theme into our float today as an effort to commemorate such milestone and align with SF Pride's theme," said Lavel Brady, Events Manager at Comcast California.
Like every year, OUT, the LGBTQ+ employee resource group (ERG) at Comcast played a crucial role at organizing the contingency that walked in the parade.
"What I love of the Comcast OUT ERG is that I can be myself. We have freedom and are encouraged to be who we are," said Orlando Kurz, Supervisor, CommOps and OUT ERG board member.
Proud to be a part of the Comcast/NBCU family. Here is to a more diverse, inclusive and loving future for all. Happy pride! Xx pic.twitter.com/8SeAI5GnAu

— Sally Shin (@sallyshin) July 1, 2019
For Jackie MayBeck, Senior Director of Retail Sales, having and encouraging diversity is simply good for the business. "What's amazing about having an inclusive and diverse workforce is it's not just about whether it's sexual orientation, color, religion, it's really about diversity of thought."
What was special about this year's partnership with SF Pride was that Comcast Xfinity was the presenting sponsor of the Latin and Soul of Pride stages at the SF Pride Festival that took place Saturday and Sunday, featuring talent such as Ninel Conde and Amara "La Negra" to name a few.
In addition, Comcast Xfinity hosted a meet & greet with this year's SF Pride Celebrity Grand Marshals: The cast of the popular Starz original series, VIDA.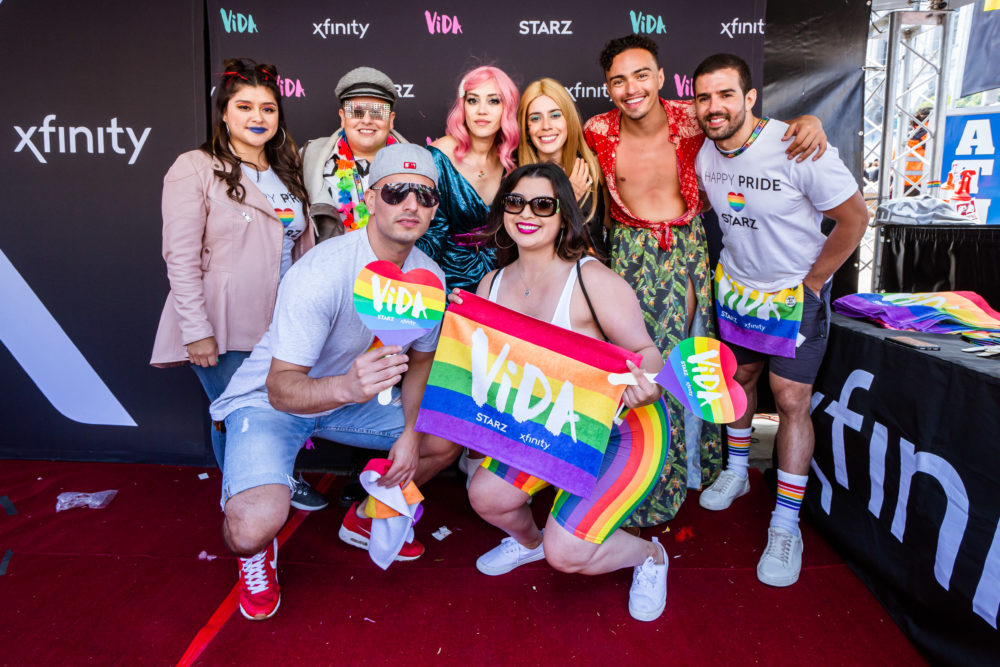 Right after the parade ended, Mishel Prada (Emma), Ser Anzoategui (Eddy), Roberta Colindrez (Nico), Chelsea Rendon (Mari), Adrián González (Rudy) and Tonatiuh Elizarraraz (Marcos) met with dozens of fans who came to meet them and get a photo with them at the Xfinity Booth during the SF Pride festival.
VIDA, a groundbreaking show that has risen to fame for their genuine portrayal of Latinx and LGBTQ+ life in Los Angeles, had released its second season in May and is featured on the Xfinity LGBTQ permanent collection on Xfinity's X1 video platform.
"There is a lot of pride in being here with our fans. Being here for the people who want to see the show. And that's the thing, VIDA is not for certain people, it's not for queer people, it's not for brown people, it's made for everyone," said Colindrez.