Last Sunday, February 26th, Downtown Oakland transformed into the epicenter of Black joy as the Black Joy Parade gathered the community and its allies for its 6th annual celebration and signature parade. Comcast has proudly supported the Black Joy Parade since its inception in 2017, firmly believing in the organization's mission to honor the Black community's contribution to history, celebrate bold Blackness, and amplify creative expression.
This year, Comcast powered the "Black Cultural Zone," a dedicated area within the celebration site featuring a DJ station, roller skating rink, and a Black-owned small business marketplace. Rain or shine, families, friends, and allies were able to relax and rejoice as they enjoyed all that the Black Cultural Zone had to offer.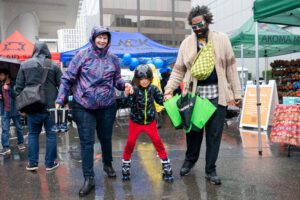 The signature parade filled the streets of Downtown Oakland with cheer, music, laughter, and good vibes all around. Dancing groups, floats, and even horses participated in the procession, bringing the celebration to life. Comcast employees and members of the Black Employee Network Employee Resource Group joined in on the fun, walking next to Comcast's custom-designed float. This year, Comcast's float theme was "Honor, Celebrate, and Amplify," spotlighting this year's Icons: educator and activist, Angela Wellman; culinary expert and entrepreneur, Aminah Robinson; and choreographer and advocate of possibilities, Antoine Hunter. Each Icon is an innovator and trailblazer committed to igniting change within our communities, paving new paths for innovation and equality.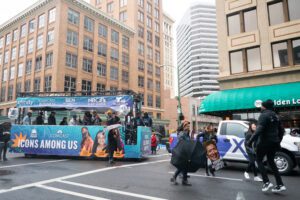 "Icons Among Us" is an initiative created by Comcast and Black Joy Parade to recognize local activists and leaders dedicated to being a warrior for racial equality. This award has since become an extension of the organization and a popular initiative that the community actively engages in as they nominate selfless individuals and celebrate the movement of racial equality beyond Black History Month. Adding onto the year's celebration, Comcast and Black Joy Parade partnered with Visit Oakland to host a private media preview event prior to the parade itself, introducing 2023 Icons to reporters and influencers to give them a warm welcome and congratulations.
Meet our 2023 Icons:
Angela Wellman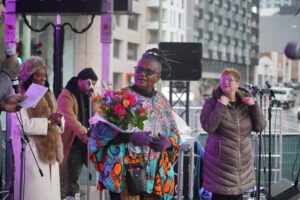 Angela M. Wellman is an award-winning musician, scholar, educator, and activist. As a third-generation musician, Wellman has performed with a multitude of noted musicians such as the McCoy Tyner Big Band, Joe Williams, and Dee Dee Bridgewater. She is a recipient of multiple local and national awards, including the City of Oakland "Cultural Key to the City," the Jazz Journalists Association's Jazz Hero Award, the Arhoolie Award, the 2020 Caffie M. Greene Community Building Award from UPSurge! NY, the prestigious National Endowment for the Arts Jazz Study Fellowship, the 2021 Alameda County Arts Leadership Award, and the 2022 Lifetime Achievement Beacon Award from the International Women's Brass Conference.
In 2005, she co-founded the Oakland Public Conservatory of Music (OPC), a vanguard institution that centers Blackness in the development of American musical culture and identity. Since opening its doors, OPC has provided affordable, and culturally relevant music education for people of all ages.
As a music education activist, her work is centered around ensuring access to music education for African American students. As a scholar and researcher, her research explores the impact of racism and white supremacy on access to music education for Black students. Wellman's passion for and commitment to creating access to culturally sustaining music education has kept her developing pathways to meaningful experiences in music for the people of Oakland and beyond for the past thirty-five years.
Aminah Robinson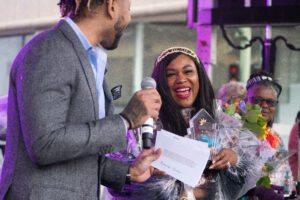 Aminah Robinson is the owner of The Black Food & Wine Experience. She is passionate about bringing Black culture and food together for the most amazing culinary experiences. As a classically trained chef, she believes that food is a universal experience that brings people together and allows one to share their heritage.
For more than a decade, Robinson has focused on the often-overlooked intersection of food, social justice and entertainment. Through Chef Mimi LLC, Robinson has brought to life three distinct brands: The Black Food & Wine Experience, an interactive annual event that bridges food, beverage, education, health, and Black culture, "Bringing It to The Table," the first culinary competition show highlighting the talent and passion of Black chefs, and Chef Mimi Catering, a boutique catering company that services Bay Area tech companies such as Facebook, Slack, Twilio and Lyft as well as non-profits and cultural events like the Coalition of Black Excellence and ESSENCE Festival.
As a graduate of the California Culinary Arts Academy in San Francisco, Robinson is an active board member of the Oakland African American Chamber of Commerce and Diablo Valley College's culinary and wine program. Most recently, she was recognized on the list of 2021 Forbes Next 1000, which highlights entrepreneurial heroes who are redefining what it means to build and run a business today and Top 40 Entrepreneurs, Wine Enthusiast Magazine.
Antoine Hunter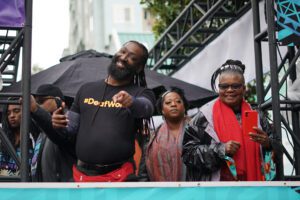 Antoine Hunter, also known as Purple Fire Crow, is an award-winning, internationally known African American, Indigenous, Deaf, Disabled, choreographer, dancer, actor, instructor, speaker, producer and Deaf advocate. He creates opportunities for Disabled, Deaf and hearing artists and produces Deaf-friendly events.
An innovator and changemaker at heart, Hunter has founded many organizations and programs driven to expand diversity and inclusion within the arts. He founded the Urban Jazz Dance Company in 2007 and Bay Area International Deaf Dance Festival in 2013. Hunter utilizes his company's artistic talents to engage with audiences, empower Deaf and disabled communities, and advocate for human rights and access, working to end discrimination and prejudice. His shoe company DropLabs and Susan Paley released an innovative haptic product to help people feel music. In response to Covid-19 in July 2020, Hunter founded #DeafWoke, an online talk show that amplifies BIPOC Deaf and Disabled stories as a force for cultural change.
Hunter curated 2021 Bay Area Deaf Arts at SOMArts, is a 2021 YBCA 100 honoree, is on the production team of Signing Animation actively working on inclusive films and serves on the boards of Dance/USA, BABDA, Museum of Dance and councils for CalArts Alumnx and Intrinsic Arts. His awards and recognitions include the 2023 USA Artists Fellowship Award, 2022 Disability Futures Fellowship, 2021 Dance Teacher Award, 2019 National Dance/USA fellowship recognized by the Mayor of Oakland, 2018 inaugural Jeanette Lomujo Bremond Humanity Arts Award and 2017 Isadora Duncan (Izzie) for BAIDDF. Hunter's work has also been performed globally and he has lectured across the U.S. including at Kennedy Center's VSA, Harvard and Duke University, and the National Assembly of State Arts as an ambassador for social change.