Today Comcast unveiled a new RISE Business Directory for laptops and mobile phones, highlighting nearly 300 California small, diverse-owned businesses that have received grants, marketing and technology services from the Comcast RISE program. This new, interactive directory makes it easy to support California's small businesses owned by people of color that have been hardest hit during the pandemic.  
Last year, Comcast launched Comcast RISE, a national effort to uplift and support local small businesses hardest hit by the economic impacts of the COVID-19 pandemic — focusing primarily on small businesses owned by people of color. The RISE program was created to invest in the success of these diverse small businesses by providing them with the tools and resources they need to help them thrive. 
Comcast's new RISE business directory is a user-friendly digital map that collates and presents key information about local businesses throughout Northern and Central California who have benefited from the Comcast RISE program. Having an easy-to-use business directory will provide local consumers with the information they need to become aware of, locate and contact these small businesses owned by people of color.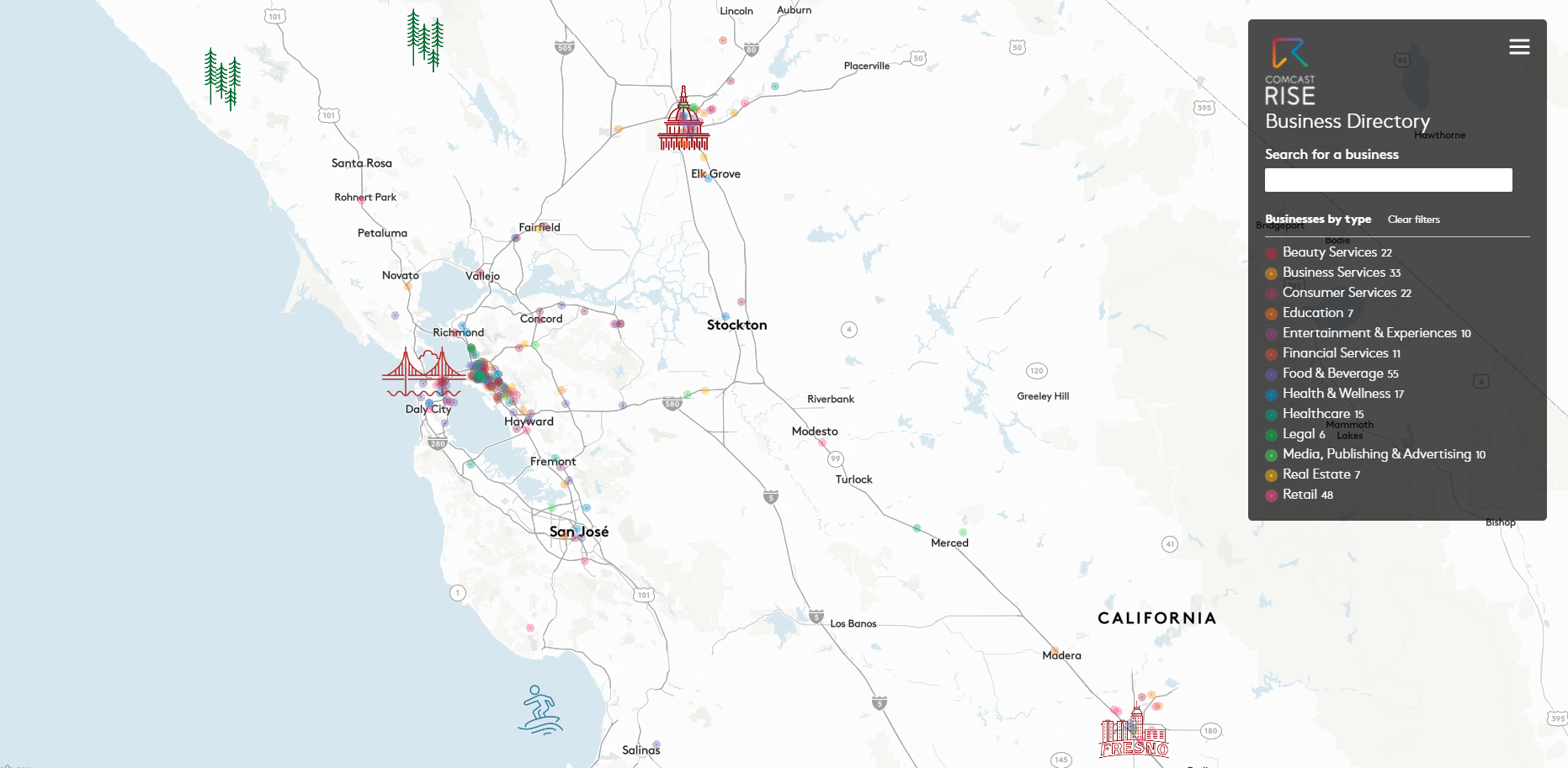 "This new business directory is another key example of Comcast's commitment to supporting local entrepreneurs of color and contributing to our economic success," said Tamika Miller, Oakland native, owner of Cuticles Nails Spa, and two-time RISE recipient. "My business was deeply impacted by the pandemic and through the technology makeover, the $10,000 grant from the Comcast RISE Investment Fund and now this new RISE directory have all helped me not only to keep my business afloat but to thrive." 
Comcast RISE is currently open to all eligible business owners who can apply now for the services. Additionally, starting on January 16th, the program will expand eligibility to all women-owned small businesses as well, regardless of race or ethnicity. This expansion recognizes and seeks to help address the persistent inequities women continue to face in accessing the resources and funding that are critical to success.  
For more information and the applications to apply for either the grant program or marketing and technology services are available at www.ComcastRISE.com.