At Groundbreaking Event, Comcast Donates $100,000 to Community Organizations and Gives 100 Laptops to Planada Middle School Children
Today, Chief Network Officer Elad Nafshi announced Comcast's plans to invest $4.5 million to bring next-generation high speed broadband, the Xfinity 10G Network, to Planada, a rural community in Merced County, California. To further support the area, which was badly damaged in storms earlier this year, and to create greater digital equity, Comcast also donated $75,000 to United Way of Merced and $25,000 to the San Joaquin Regional Broadband Consortium. At the event, Comcast surprised approximately 100 graduating 8th graders from Planada's Cesar Chavez Middle School with free laptops and school supply kits. Local dignitaries along with Planada youth and their families attended the celebration.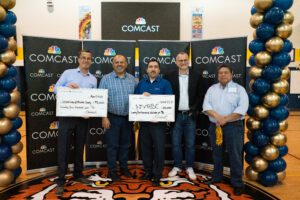 Today's groundbreaking event was attended by local elected officials as well as community and business partners who celebrated Comcast's announcement of its expansion of multi-gig broadband internet speeds, video, mobile, voice, home security, and business products and services.
"The investments made by Comcast today will not only benefit our students, residents and businesses but also contribute to our rural economic development — especially as we're coming out of a severe winter season and the pandemic," said Rodrigo Espinosa, Merced County Board of Supervisors. "We all know the need for fast, secure Internet service is more important now than it has ever been and I'm grateful to companies like Comcast who are making these investments in our community to create lasting change and impact."
Comcast concluded the event by making $100,000 in donations to Planada non-profit organizations. United Way of Merced County received $75,000 for storm relief efforts and other community programs and the San Joaquin Regional Broadband Consortium received $25,000 to support digital equity efforts. These grants were distributed through Project UP, Comcast's $1 billion commitment to reach tens of millions of people in order to advance digital equity and help create a future of unlimited possibilities.
"As the world we live in continues to become more digital than ever before, we must work with our business and community partners like Comcast to make sure all communities — especially our rural communities like Planada — are connected to the growing digital economy," said Jose Gonzalez, Superintendent of Planada School District. "I'm thankful for public-private partnerships such as this one with Comcast, because it allows us to work together to provide the necessary tools and resources for our students to succeed and create vital educational opportunities for them in the future."
"After this season of unprecedented, severe weather, Merced County has especially felt the impact of the recent storm damage, said Robert Hypes, Interim CEO, United Way of Merced County. "From the very beginning, Comcast worked with us to support the communities of Merced County. During the first wave of storms in January, Comcast provided WiFi services to the evacuation shelters to keep our communities connected and safe. When the City of Merced issued an evacuation order for areas with flooding risk from Bear Creek, Comcast joined forces with us and delivered food, beverages, and personal hygiene kits to over 300 people at the Merced County Fairground evacuation center. We are so excited that Comcast will continue its partnership with the United Way of Merced County, granting us $50,000 to support disaster relief efforts. We plan on using this contribution to fund long-term recovery efforts and fill unmet needs among our residents and their families."
When Comcast's network expansion is completed, Planada residential customers will have access to reliable and fast Xfinity Internet and Mobile services, including Internet Essentials, which provides eligible customers with high-speed Internet access at home for $9.95 per month (plus tax) and Internet Essentials Plus for $29.95 per month (plus tax) for qualified families/individuals.
Powered by the Xfinity 10G Network
Comcast's next-generation network and Internet experience are powering homes today and into the future:
Ultimate Capacity: Xfinity customers connect nearly 1 billion devices across the company's network annually. The Xfinity 10G Network with the next-generation Xfinity gateways deliver the most advanced WiFi technology carrying three times more bandwidth to power streaming, gaming, videoconferencing, and more, simultaneously.
Fastest Internet: More than one third of Xfinity Internet customers subscribe to gigabit speed products, and Ookla rated Xfinity the fastest Internet provider at the end of 2022. Symmetrical gig speeds to the first homes are planned for later this year.
Unprecedented Coverage: The latest Xfinity Gateway provides a more reliable connection throughout the home. Customers can get wall-to-wall WiFi coverage with a powerful xFi Pod that extends coverage to hard-to-reach areas, with plans for an offering of increased support for in-home WiFi through a "boost guarantee" later this year.
Most Reliable Connection: Comcast is scaling the nation's largest and most reliable network – the Xfinity 10G Network – that passes 60 million homes and business and counting. The company plans to launch a new device that is "storm-ready" with cellular and battery backup to help keep customers connected even when the power goes out.
Ultra-Low Latency: The Xfinity 10G Network and the latest xFi Gateway are a powerful combination that deliver ultra-low latency for those moments when response times matter most like video games, a fast-growing category with Xfinity households averaging more than one gaming console per home.
More information about the Xfinity 10G Network can be found here.