Last Friday, over 20 Comcast executives visited the Boys and Girls Clubs of Oakland to kick off the next phase of our Lift Zone elevation with a personal and professional mentorship event.
Comcast created Lift Zones to provide free WiFi for community members at trusted community spaces such as nonprofits, community centers, gyms, parks, and recreation facilities. These areas have become critical resources in our communities as a safe space to access digital resources. Since the pandemic, Comcast has continued to invest in Lift Zones, launching more than 1,250 Lift Zones nationwide, with over 150 existing in California. Comcast is now working on expanding these into capacity builders for digital equity, including personnel development, technology and community engagement. In partnership with the Boys & Girls Clubs of Oakland, Comcast plans to create programming for the Lift Zones at three Oakland locations.
The event was kicked off with Ken Maxey, Director of Government Affairs at Comcast, who emphasized the importance of expanding Lift Zones beyond the digital resource that they are. With the pandemic in 2020, it was important to ensure communities in need were equipped with reliable, high-speed internet for continued learning and access to important services that require online services. But beyond free WiFi in community spaces, there is an additional need for digital equity that includes conversations on career pathways and membership, which Comcast is here to provide.
Cal Stanley, Executive Director of Boys and Girls Clubs of Oakland, spoke to the organization's long-standing partnership with Comcast. He noted that Lift Zone connections have allowed students to continue their studies, becoming a safe and educational learning space for them. The next phase of this partnership will expand on this by inspiring and helping the growth of students through career workshops, mentorship, and other digital program support at the Lift Zones.
Nelson Duckett, Regional Vice President of Operations, was a part of the technical operations crew that involved setting up the WiFi connection for Lift Zones. He emphasized the power of having a mentor as someone who believes in your growth, helps you find your inner confidence, and helps you identify your skills and talents.
At the gymnasium of the Anna Marie Whalen Branch, a group of approximately 30 students of the Boys and Girls Clubs of Oakland between grades 8-12 was then paired off with senior leadership from Comcast for a personal and professional mentoring session to provide insights and guidance about various aspects of life, work, and education. The mentors were given mentoring tool guides, while the students were provided with a career and skills mapping activity. This trusted, safe space at the Boys and Girls Clubs of Oakland between the mentor and the student fostered conversations about passions, goals, and skills. While each conversation differed based on the pairing, they all had a shared goal of finding that connection, bonding over their interests, upbringing, or goals. After the hour-long mentoring session, the students networked with Comcasters over lunch, discussing what they learned during their conversation and what actions they will take over the summer to improve upon their skills.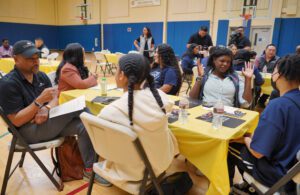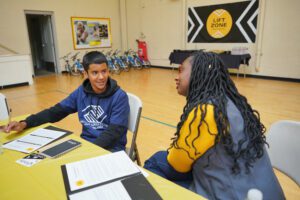 To end off the event, Patrick, 2023 Youth of the Year for the Boys and Girls Club of Oakland, helped announce that Comcast will contribute $25,000 to the Boys and Girls Clubs of Oakland! In addition, each student received a free laptop to take home and school supplies. These donations will ensure that the students will be well-equipped for their digital needs, serving as a reminder that Comcast will continue its investment in Boys and Girls Clubs of Oakland by helping meet student needs and further close the digital divide. We are so excited to continue to connect, empower, and support the bright minds of our community's youth.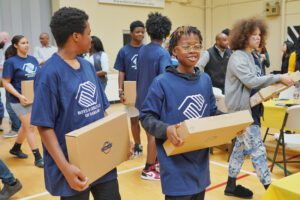 Thank you to the Boys and Girls Clubs of Oakland for the continued partnership! Comcast mentors had a great time engaging with the students to create a day of self-learning, growth, and empowerment for our next generation of leaders!