It was the summer of 2008 and the Moya family was running late for the Leaders and Achievers Scholarship ceremony at the California State Capitol in Sacramento.
"I went with my mom, dad and younger sister. I remember my dad was worried about money because he had to take a day off work to attend the event. We had no idea I was about to receive a $10,000 scholarship from Comcast," said 26-yearold Laura Moya, who now lives in East Palo Alto.
They arrived and took their place at the Capitol steps, where every summer since 2007, close to 200 students gather to receive a $1,000 scholarship from Comcast and two receive the $10,000 Comcast Founders Scholarship – instituted in honor of Ralph J. Roberts, Founder and Chairman Emeritus of Comcast Corporation. Since that date, Comcast has granted a total of $26 million to students through its Leaders and Achievers program.
The Comcast Leaders and Achievers Scholarship Program is a nomination-based award, and only one student per school may be nominated by their principal or guidance counselor. Leaders and Achievers, funded through the Comcast Foundation, recognizes high school seniors from Comcast communities for their commitment to community service, academics and demonstrated leadership.
"We had such a special day. We had never been to the State Capitol as a family. On the way back home my parents told me how proud they were of my accomplishments. They said 'see, hard work pays off!,'" she remembers.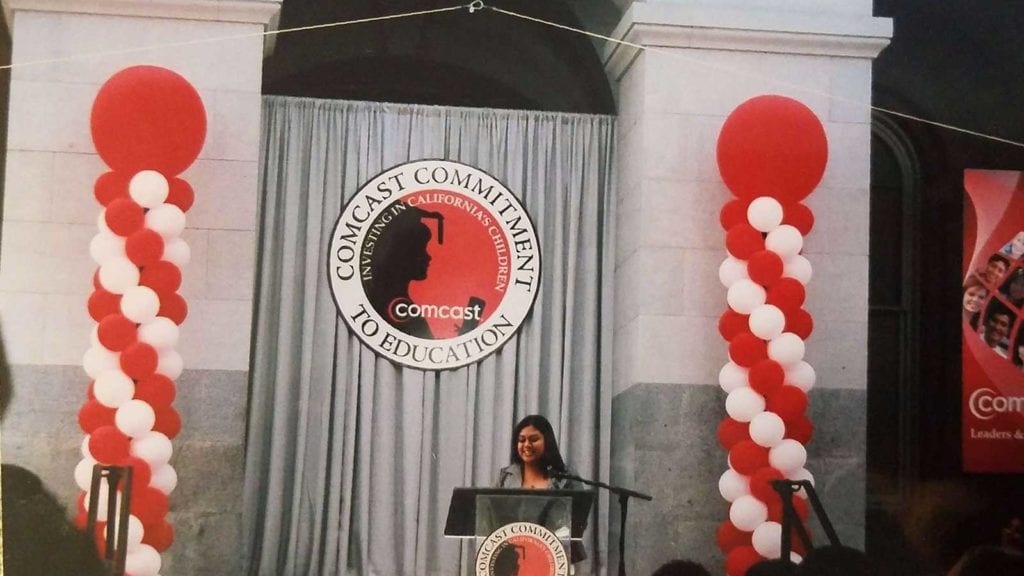 Laura is the daughter of Maria Ramirez Moya and Juan Moya. The couple immigrated to the United States from Michoacán Mexico in 1989 with their four-month-old baby, Laura's older brother, in search of opportunities and a better life.
"Like many other immigrants, my parents started from the bottom, working two or three jobs, gardening and cleaning houses. For as long as I can remember, my dad has had two jobs," Laura said.
After receiving Comcast's Leaders and Achievers scholarship, Laura attended St. Olaf College in Northfield Minnesota where she graduated with a degree in Spanish and Hispanic Studies. Laura is the first one in her family, and even extended family, to graduate from college.
"My brother and sisters, cousins and everyone in my family who is younger than me saw that it is possible to go to college and earn a degree. Even my older brother decided to go back and get his Associate's Degree so we graduated almost at the same time. I like that I've been able to set a good example," Laura said.
Laura currently works as a Home Sharing Coordinator at HIP Housing (Human Investing Project) a non-profit organization whose mission is to invest in human potential by improving the housing and lives of people in our community. HIP Housing enables people with special needs, whether that's due to low income levels or other circumstances, to live independent, self-sufficient lives in decent, safe, low-cost homes.
"If someone has a spare room in their house that they want to rent, I help them to be paired with someone who is looking for a room. In this expensive housing market, it is extremely difficult to find affordable housing; Seniors, students, working professionals, homeless, everyone needs a place to live and I'm happy to be able to help them fulfill that need," said Laura.
Almost, ten years later, Laura will be attending Comcast's 10th Annual Leaders and Achievers Ceremony at the State Capitol on June 6th, 2017.
"I'll be there because I want to see those hundreds of students receiving their certificate. I want to hear about the great things they want to do with their education. I remember speaking at the Capitol about helping others. That day on my way home I thought – well I said it, now I have to do it. It gives you a sense of accountability!"