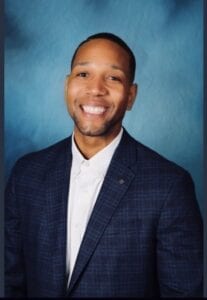 Jacob Mitchell, Senior Director of Business Development for Comcast in California, came to the company during a global pandemic. He joined us from AT&T headquarters in Dallas, Texas where he held various roles that prepared him for his new role here at Comcast. We sat down with him—virtually of course—to learn how the transition has been, how he hopes to see Comcast grow and what TV shows he's indulging in lately. Comcast California is excited to have a talented leader like Jacob contributing to our future success.
How would you describe your role to someone outside of Comcast?
I would say that our team is responsible for expanding Comcast's network for both residential and commercial customers so we can better serve them. That's what I tell my mom or anyone else who asks.
What attracted you to this role at Comcast in California?
What got me was the people-first culture. They were telling me throughout the recruiting process how Comcast is people-oriented, people-first, and I got that feeling from the leadership team, senior leadership in California in particular. The role itself was so enticing, the opportunity to work with municipalities and organizations, construction, sales, all that together made it very hard to pass up. Plus I've lived in the Bay Area before, and it's fantastic.
How are you seeing the people-first culture play out in your role?
Every organization and company wants to be people first, that's everybody's goal — but you don't see it demonstrated the way I've seen it at Comcast. The tangible behaviors I've seen are a focus on personal development, or people development, with different leadership courses, with different diversity sensitivity courses, there's a lot of effort put around building the people. I have been a part of over a dozen conversations in how we will accomplish our 2021 goals.  In every discussion our people come first, then right after that is the customer.
You started at Comcast during the pandemic. How has that impacted the transition into your new role?
The transition has been awesome. The senior leadership team has done a really good job of bringing me on and being thoughtful during my onboarding process. It was scary to leave one company and join another during a pandemic when people are so concerned about whether they'll have a place to work in the next month or two. I felt very secure in the process, everyone's been helping me go slowly but still be aggressive with some objectives my department has. The company has done an outstanding job of creating the curriculum for us to feel good during the pandemic, and consistently checking in. Over-communicating with my leadership team has helped a lot.
How have your past work experiences prepared you for this position at Comcast?
Overall, with my experience in the past, I think what I've taken away the most is the ability to leverage cross-functional relationships to be successful. There are various stakeholders in different parts of the business and knowing how to maneuver those relationships to get to where you need to go is the best transferrable skill. Cross-functional skills have been invaluable so far, because my department enables the sales force to go out there and be successful in the California region. Overall, we have to be able to work with all these different functions to make sure we're successful and I think my experience helps with that.  Secondly, the one thing I know always works best from any of my previous roles is making sure you have a strong team and making sure you're helping develop those folks so that they can replace you one day. I try to start with my folks and make sure we're coached up and developed the way that we need to be, and I know the rest will happen.
Where are some areas you hope to see Comcast grow?
There's two different ways to look at growth. One is within the community and the other is to better service tech in California. You've already seen a lot of good work from Comcast in the community when it comes to things like RISE, our program where we're giving back to different small Black Indigenous People of Color-owned businesses. I would also put a selfish plug in for data centers because the Bay Area has the most data centers in the country. We are data center heavy, so we want to make sure that we're servicing those centers as well. So, we're going to have a concerted effort there to make sure we grow.
What excites you and what do you hope to accomplish in 2021?
I'm excited to see us take key findings and learnings from 2020 and use those to develop and go even faster in 2021. Last year we started with the Modesto project, which was designed to provide robust services to Modesto businesses. We've got a number of other exciting projects for 2021 so I would just say check-in with me in a few months for some updates!
What do you think is one characteristic of a successful leader?
A plug for my favorite book, Radical Candor, I would say being transparent and candid with your folks. The best coaching I get is when someone is very clear and I know where I stand. I know what behaviors I need to achieve to be successful and then can follow up on those. If you always do that, I think you'll be in a good shape. There's nothing worse than someone not being transparent with where you are, where you stand and what you need to accomplish to be successful or valued as such.
What advice would you give young people starting their careers?
First, be consistent.  Think about a workout or a meal plan, that consistency is what gets you over the hump, but it's also the most challenging thing to do. If you want to be successful, find out what behaviors you need to develop and work on those things consistently. Second, be prepared to reverse engineer your career. By that I mean, think about whatever your goal is, maybe you want to be a director eventually. You need to reverse engineer that and say, "What's it going to take for me to get there? What skillsets do I need to have? What lateral opportunities may I need to take to better serve myself so I can get to that role in the future?" See what you need so you can skill yourself up from there.
Comcast has implemented new efforts to support DE&I, including the RISE program and a $100 million commitment to POC communities, how do you see these efforts impacting the communities we serve?
I think it's great for us to be so involved with the communities. Creating greater digital equity is imperative. We have to make sure that all communities can access the technology they need to be successful, so we have an even playing field for folks. When we go into those communities and make those investments, it makes a huge impact later on; these are generational impacts. The more we do in the communities the better. I encourage my team to look for projects in certain communities to try to give back. The investment in the communities starts in one area and it keeps expanding. Comcast will be an industry leader when it comes to helping.
We are living in a time where corporations are taking a stand on social issues more than ever before. How do you think this is shaping the new generation of leaders, especially BIPOC professionals?
It's a tough question and quite honestly, these are things we weren't supposed to be talking about just a year ago in the corporate world. I know I've taken many classes on how to speak on certain issues and social issues is one of those that you were not supposed to speak on, because of how sensitive it is. But like in all things, that sensitivity, that uncomfortable space that we're in, helps you grow. Again, like you're working out and you feel your muscles starting to hurt, that's how you know they are growing and so that's what we're doing here when we're having these conversations about social unrest. It would be a mistake if we didn't talk about it in the corporate zone. If it exists throughout the country, it can exist within the four walls of any business. I appreciate that we're taking a stand on it; I think it's going to help with the newer workforce. I truly believe the next generation of workers are going to work at a place where there is an alignment of their views and the company's views. If you don't have alignment and synergy, I don't think you'll be able to attract talent. Part of the reason I'm here is that I did the research, I asked leaders, "How is it being a Black man working at Comcast?" I wanted to make sure I was going to a place where I felt represented, that I could express myself and be my authentic self. Once you do that, you're going to attract all the best talent.
What kind of content are you consuming these days? TV shows, books, blogs, podcasts, etc.
I'm overly consuming Netflix at this point. I just started to dig into Peacock as well so shameless plug for Comcast's new platform. I mentioned it already, but Radical Candor is a great book, as well as Energy Bus. Energy Bus is a phenomenal book, it's a short read that will leave you inspired. Other content, embarrassingly, I'm familiar with all the Housewives, I just watched the Housewives of OC last night. I also listen to a lot of Gary V content, the way he thinks about business and what's to come, I like to take in his brain.
What are you passionate about outside of the workplace or outside your role?
I'm most passionate about my family. I have a 12-year-old who's awesome and my newest sixth-month-old. I want to make sure they are in the right space and they can be in a community that represents them as two Black women in society. I want to make sure that they're ready to go. That's where I'm getting my passion and fire right now. I have them on a lot of different readings, little tools to make sure they are ready for when they're older. As far as things I like to do, I love working out, getting out of the house and going to the beach and I also like reading a lot.
Is there a song you listen to before a presentation if you want to feel pumped or inspired?
I've been on a Peloton kick lately; all their music is great. I like picking by genre sometimes I go with a house genre, sometimes hip-hop genre. If I were doing a presentation and I wanted to get pumped I'd probably put on Nonstop by Drake, it gets you going. It has a nice tempo and it's about never stopping, never failing. That's what I would go with!
. . .
Bold Moves in Leadership is a new blog series featuring leaders in the California region. The series will examine the challenges that leaders face during this unusual time. From starting a new role during a global pandemic to working toward a more equitable future, our leaders are making bold moves to lead our company towards a better tomorrow.