Throughout the year and especially during Women's History Month, Comcast is committed to elevating the stories of women who are building a better, more equitable world. This month, we are proud to highlight generations of female trailblazers who have courageously changed the world through entertainment, civil rights activism, community investment, entrepreneurship, and more.
Xfinity
This March, you can explore Xfinity's curated collection of female-directed films and stories with strong women leads. Customers can access the destination by saying "Women's History Month" into the Xfinity Voice Remote. Additionally, available exclusively on the Black Experience on Xfinity and Xumo is The Black Beauty Effect, a three-part docuseries that examines Black women's impact on the beauty industry featuring influencers and experts in the makeup, skin, and hair industries.
Comcast Newsmakers
Comcast Newsmakers is celebrating Women's History Month by spotlighting efforts to advance representation for women in the tech sector. Comcast partner Dwana Franklin-Davis of Reboot Representation, discusses the coalition's commitment to doubling the number of Black, Latina, and Native American women who graduate with computing degrees by 2025, and shares actionable recommendations to help tech companies close the gender gap in her feature. Other special guests include Marilou McFarlane of Women in Sports Tech and co-founder of Ms. magazine, Patricia Carbine.
Segments are available to Comcast customers on Xfinity X1, Flex, and Stream using the voice command "Comcast Newsmakers," and free to the public at ComcastNewsmakers.com.
Highlighting Female Small Business Owners
Since its initial launch in 2020, Comcast RISE has reached the program's goal of supporting 13,000 small businesses hardest hit by COVID-19 by providing monetary, marketing, and technology grants to strengthen and empower small businesses owned by women and people of color including Black, Indigenous, Hispanic, and Asian American among others.
Of those 13,000 small businesses, over 600 Comcast RISE recipients are located in California. Join Comcast California in supporting local women-owned small businesses throughout this month and beyond.
Featured Businesses:
1. Cuticles Nail Spa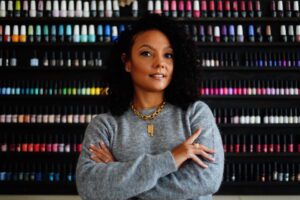 Treat yourself and your loved ones to a relaxing nail spa experience this March. Located in Oakland, Cuticles Nail Spa specializes in clean beauty and a five-star resort-like experience.
Tamika Miller, owner of Cuticles Nail Spa, is driven to challenge the status quo and level the playing field through her work, team, and business.
After more than a decade in the beauty industry and witnessing the service gap between the resort experience and the traditional nail salon experience, Tamika decided to integrate her resort hospitality experience with the accessibility of traditional nail salons, inspiring her establishment of Cuticles Nail Spa. She is passionate about continuing education and training for herself and her team and providing client experiences that go beyond the basics.
Visit Cuticles Nail Spa's website here.
2. Socola Chocolatier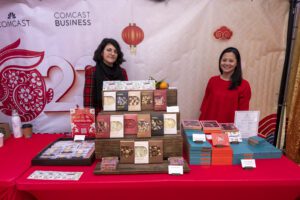 Make your life a little sweeter with chocolates from Socola Chocolatier. Located in San Francisco, Socola Chocolatier is an award-winning chocolate company founded by Wendy Lieu, who serves as the CEO and Chief Chocolatier.
Wendy combines the art of making high-quality handcrafted chocolate bars, truffles and other treats with the curation of innovative and unique flavors inspired by her Vietnamese heritage. Wendy originally learned how to make chocolates with her sister and has continued to share her passion for chocolate-making and her culture through her company.
Visit Socola Chocolatier's website here.
3. Scent & Fire Candle Company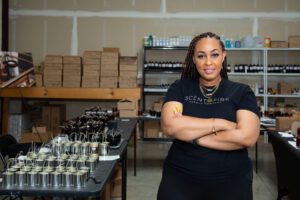 Revitalize your home with aromatherapy candles from Scent & Fire Candle Company. Based in Fresno, Scent & Fire Candle Company sells eco-luxury scented candles and other fragrant consumables made from domestically sourced raw and recycled materials.
Monisha Edwards, founder of Scent & Fire Candle Company, was inspired to start her company after her introduction to aromatherapy. After being diagnosed with anxiety and depression, and not wanting to take medication, Monisha used aromatherapy and burned candles to calm her environment and to keep anxiety attacks at bay. She started Scent & Fire after researching the benefits of essential oils and started curating my own scent blends in soy wax. With the rise of mental health issues, Monisha's products are designed to destress environments and promote self-care for mental wellness.
Visit Scent & Fire's website here.
4. La Guerrera's Kitchen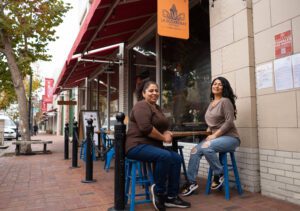 Grab a bite of delicious, authentic tamales at La Guerrera's Kitchen. From humble beginnings at the mercados in Guerrero to selling tamales across the Bay, La Guerrera's Kitchen is now located in Swan's Market in Oakland.
Ofelia and Reyna Barajas are a passionate mother-daughter team serving their favorite family recipes from Guerrero, specializing in tamales, pozole, and barbacoa. Ofelia and Reyna are born out of La Cocina and their hope is to bring together community to inspire connection and conversation. Each dish is made with love and seasoned with the traditional flavors of Guerrero. La Guerrera's Kitchen is open for indoor seating, outdoor seating and pick up in Old Oakland.
Visit La Guerrera's Kitchen's website here.
To find more local women and diverse-owned small businesses to support during Women's History Month and beyond, visit the California RISE Business Directory.