Last April 4, Comcast, NBC Bay Area and the Asian American Journalists Association (AAJA) San Francisco Chapter hosted a reception attended by dozens at the KQED Headquarters in San Francisco in honor of the three 2022 Rising with the Tides (RWTT) fellows.
The RWTT fellowship launched in 2020 as an effort between AAJA SF Chapter and Comcast to support journalists who were facing career and financial insecurity during the early months of the COVID-19 pandemic. NBC Bay Area joined as the official media partner for the program.
In 2020, nine journalists received between $500-$1,000 each to produce a piece in any medium, including print, audio, or visual. Their stories published in the New York Times, San Francisco Chronicle, NBC Bay Area, and Wired. They also participated in AAJA-SF Bay Area's sold-out live storytelling fundraiser, Hella Asian, held at KQED's headquarters.
Last year's fellows are Bay Area journalists and students — Kate Selig, Kori Suzuki and Junyao Yang were announced in the Fall of 2022 and this week they had an opportunity to share what it was like to work on their stories financed by the program.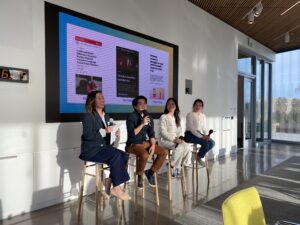 About Their Work
Kate Selig, a Stanford undergraduate student and the news editor of The Stanford Daily, reported on 'A Life and Death Difference': Essential Workers Push for Cantonese Language Access in San Francisco on KQED.
Kori Suzuki, an audio and visual journalist and a student at UC Berkeley's Graduate School of Journalism, published The fight to keep Ohtani basketball alive on High Country News.
Junyao Yang, also a student at UC Berkeley's Graduate School of Journalism, reported on Chinese women's struggle to cope with domestic violence in the U.S. on the China Project.
During the panel led by AAJA SF Chapter former president and current host and producer of the podcast Fifth & Mission, Cecilia Lei asked them what surprised them the most as they were reporting on their respective stories.
"I was surprised about the demand for Cantonese language access in critical services areas. In San Francisco, one-tenth of the population speaks Cantonese, yet it is very hard to have access to Cantonese classes," said Selig.
For Suzuki, it was the multiple layers of factors that contribute to a dying tradition. "Traditional Japanese-American neighborhoods are changing. The increasing cost of housing is pushing out our communities and they are spreading."
As for Yang, it was the volume of women that suffer from domestic violence in the U.S. and how cultural nuances contribute to this phenomenon that surprised her the most. "I found the story and sources on Xiaohongshu, a Chinese social media platform similar to Instagram. One user shared her experience with domestic violence and multiple women shared similar stories in the comments. From there I was able to convince two women to share their stories publicly."
For the closing, the journalists thanked their editor Karishma Mehrotra for her guidance throughout the process. "It was the RWTT program that taught me the freelance process from begging to end and that's something you don't learn in school. I'm very grateful to AAJA and Comcast for this opportunity," said Selig.