The month of May marks Asian American and Pacific Islander (AAPI) Heritage Month. To celebrate the brilliance and courage of the AAPI communities, we are taking inspiration from Diwali, the holiday that celebrates the victory of light over darkness. Throughout the month, we have a variety of activities underway, ranging from events led by our Employee Resource Groups (ERGs), a Diversity Equity & Inclusion (DE&I) Speaker Series, content showcases from our Asian American Film and TV collection on our X1 video platform, community events that spotlight leaders in the AAPI community, and much more.
Return of AAPI Night Market
For the second year in a row, Comcast will sponsor the AAPI Night Market at Capitol Mall in Sacramento. On May 19th, people of all ages are invited to celebrate, discover, and enjoy the richness of AAPI culture. The night market features special performances, local food, and local businesses. The entertainment features Joyce Wrice, Audrey Nuna, Noodles, Ru AREYOU, and East Wind Band. This marketplace honors the diversity of the region and celebrates the roots of Downtown Sacramento. We will pass out exclusive Xfinity branded recycled tote bags to those that stop by the Xfinity booth.
Celebrating at Comcast
At Comcast, our Asian Pacific Americans (APA) ERG will host various events to celebrate. On Tuesday, May 16th, they partnered with all ERGs to gather about 50 employees at Ocean Beach in San Francisco for a community service project to clean up the beach. Following that, on Wednesday, May 24th, APA is hosting a virtual volunteer event with Community for Positive Aging. Volunteers will create placemats to connect, spread positivity and uplift the senior community members served by an Asian American Food pantry. The placemats will be created digitally and printed by visit.org to be included the culturally specific food packages that are sent out monthly to Asian American seniors to brighten their day and reduce food insecurity. That same day, the ERG will host a Professional Growth Panel that features AAPI leaders in the advertising and cable media industry. Employees will have the opportunity to hear from the panelists as they share how their culture and traditions influenced their success, giving tips on overcoming obstacles and answering questions during a live Q&A session. To wrap up AAPI Heritage Month, APA will host a performance that celebrates culture through music and dance.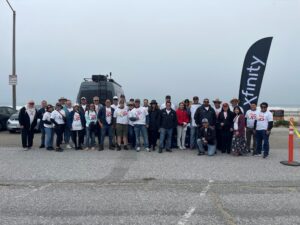 Spotlighting AAPI Leaders in the Community
Through Comcast Newsmakers, we will highlight AAPI leaders from politics, media, art, community impact, and entertainment who are boldly illuminating a path forward for future generations. Our DE&I Speaker Series on May 25th will feature Michelle Zauner, author, musician, and lead vocalist of the indie band Japanese Breakfast. Crying in H Mart, her first book, is a powerful memoir about growing up Korean-American, losing her mother, and forging her own identity.
Watch AAPI Entertainment on Xfinity X1
With Xfinity's X1 video platform, customers can explore a curated collection of high quality Asian and Asian American entertainment, including award-winning movies, the best of Bollywood, documentaries, globally recognized anime movies, and an entire category dedicated to the rise of AAPI stand-up comics. This collection celebrates AAPI excellence by amplifying these diverse AAPI stories, cultures, and creatives in the entertainment industry. With "Free this Week," X1, Flex and Xfinity Internet customers can unlock entertainment every single week with no strings attached. This includes unlocking free, week-long access to a selection of Asian networks and streaming services, such as Anime Network, Hi-YAH!, and KOCOWA!
Investing in AAPI Communities Nationwide
We are proud to invest in AAPI communities through Project UP, our comprehensive initiative to advance digital equity and help build a future of unlimited possibilities. These digital equity efforts include working to increase digital literacy and inclusion for Asian immigrants, seniors, and students through partnering with local nonprofits beyond California, including Asian Counseling and Referral Services in Seattle, Association of Chinese Americans in Detroit, Boston Chinatown Neighborhood Center, the Chinese American Service League of Greater Chicago, and The Southeast Asian Mutual Assistance Associations Coalition of Greater Philadelphia. In our continued partnership with Asian Americans Advancing Justice (AAJC), we are supporting their efforts to build the infrastructure, team, and process to systematically catalogue the spread of mis/disinformation about Asian Americans.
Comcast is immensely grateful for the remarkable contributions and impact of our AAPI employees, customers, partners and the broader community and we intend to continue building a future of awareness, respect, inclusion and unlimited possibilities well beyond this important month.