Wesley Chan had a line waiting for him when he arrived at the Xfinity booth at the San Francisco Chinese New Year Community Fair. The fans in line were there to meet Wesley because he's a co-founder of the digital production company and YouTube channel, Wong Fu Productions.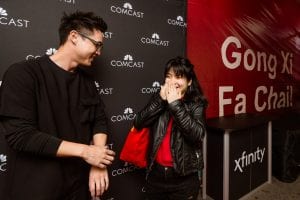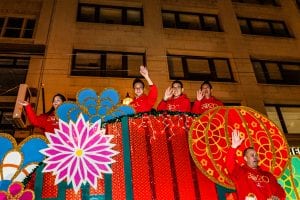 Wong Fu has been creating authentic content for Asian American viewers since 2003 and have earned a loyal following. Wesley got to meet, talk to and take pictures with his fans during the meet and greet at the Xfinity booth. While the crowd mostly consisted of young adults, Wesley appears to have a broad reach. He took pictures with families, children and elderly participants.
After the meet and greet Wesley made his way over to the Comcast float, but not before getting to say hi and snap a picture with his old dance team! From atop the float Wesley waved to the parade goers and watched the parade from a new perspective. Comcast invited Wong Fu Productions to be a part of their Chinese New Year booth and float to help share the story of the Chinese New Year holiday. Read more about Wesley's experience at the parade in his interview with Mochi Magazine.
Be sure to check out the video Wesley and Wong Fu created for this special homecoming.