Happy Lunar New Year! Last January we gathered in San Francisco for the Chinese New Year Parade to celebrate the new year with the San Francisco Chinese Chamber of Commerce and the community. This year, while unable to gather for a parade we are still honoring the holiday and continuing our ongoing partnership with the San Francisco Chinese Chamber of Commerce to commemorate the Year of the Ox!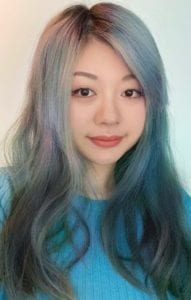 2021 is the year of the metal ox, an animal that represents honesty and hard work. In honor of the metal ox, Comcast has commissioned the New Hope Ox statue, designed by Deyi (Robin) Zhao. Robin was born in Jilin, China, and came to the US when she was nine years old. Her grandmother, Yumei Hou, worked as the main carver for the San Francisco Chinese New Year statues and her father worked building floats. Robin grew up helping paint and decorate the floats and loved seeing all the objects for the floats come together piece-by-piece. This year, she enjoyed the opportunity to design and paint her own Ox and is excited to see it as a public art piece displayed in the city. Robin is now in her first year of college at the California College of the Arts.
The statue showcases themes of springtime, strength, and peace. With its eyes looking ahead, the statue conveys progress and forward movement into the new and unknown horizon. The Chinese plum blossom branches and flowers featured throughout the statue's design represent perseverance, strength, and bravery. Red fire strips fuel the flames of success in business and life, while the Chinese clouds signify luck and peace.
The statue is part of a larger tradition in the making, The Year of the Ox On Parade. Which consists of 11 different ox statues on display throughout San Francisco, all designed by local artists. Our statue has been on display since February 3 and will continue until March 14. You can visit the statue in Portsmouth Square, Chinatown.
The New Hope Ox statue will be auctioned off in March and the proceeds will go to Donaldina Cameron House, a non-profit that has offered bilingual social services and youth development programs in San Francisco's Chinatown since 1874.
Another tradition for the San Francisco Chinese Chamber of Commerce is the annual Basketball Jamboree. This tournament has been a part of the Lunar New Year festivities for the last 25 years. While the games can't be played this year, Comcast was proud to sponsor the production of a video sharing the origin and impact of the Basketball Jamboree.
We are wishing everyone a joyous and healthy new year!
Hoopsters in Chinatown from Chinese Parade on Vimeo.