On Sunday, December 11th, Comcast partnered with Eat. Learn. Play., along with Co-Founders Stephen and Ayesha Curry, to host the 10th Annual "Christmas with the Currys" holiday celebration at the Oakland Bridge Yard.
This year, the Currys' welcomed more than 500 Oakland families, totaling over 2,000 attendees, to join them in celebrating the holiday season with a whimsical winter wonderland experience. All was merry and bright as the space came to life with families gliding across the ice-skating rink, decorating festive cookies and ornaments, and competing in the snowball showdown of the season.
Santa Claus and Mrs. Claus even landed their sleigh in Oakland to meet the guests and their children, making note of their wishes and checking it twice. Cherished family memories were made competing in the winter arcade and captured at the holiday photo station. Each sweet memory was adorned with an even sweeter treat as Ayesha Curry's Sweet July was on hand to serve seasonal coffee and pastries to attendees.
In the spirit of giving and spreading holiday cheer, families were also surprised with holiday-themed gifts, inspired by the organization's EAT, LEARN, and PLAY pillars, which were valued at more than $2,000 per family. Comcast contributed to the LEARN pillar with their gifts, donating nearly 500 new laptops to the families in attendance in an effort to help close the digital divide and provide them the opportunity to more fully participate in the digital economy, wherever and whenever they need.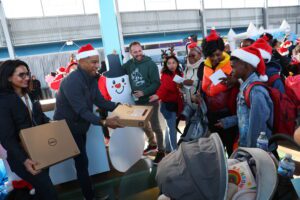 Launched in 2019, Stephen and Ayesha Curry's Eat. Learn. Play. Foundation is committed to unlocking the potential of every child by fighting to end childhood hunger, ensuring students have access to a quality education, and providing safe places for all children to play and be active.
This partnership with Eat. Learn. Play. reflects Comcast's mission to connect people to the moments that matter most by uplifting our local communities and advancing digital equity. Through Project UP, Comcast has made $1 billion commitment to help build a future of unlimited possibilities by connecting millions of people with the tools, resources, and skills needed to succeed in a digital world.
Furthering its commitment to Oakland, Comcast has also established more than 20+ Lift Zones in the area. Lift Zones provide free high-speed WiFi from Comcast in community centers and other locations to allow students, seniors, and families to get online and more fully participate in the digital economy.
Comcast California is excited to have kicked off our collaboration with Eat. Learn. Play. at Christmas with the Currys and looks forward to continuing our partnership in the new year.