Eric Price, a seasoned network technician that has worked at Comcast for 30 years, loves living and working in the Santa Cruz area near Capitola. He is happy to work close to home and loves to walk and ride bikes along the ocean with his wife Margaret and their sons.
Unfortunately, there hasn't been much walking or biking in the area these last two weeks as the recent storms heavily impacted the town.
The Santa Cruz region has experienced one of the hardest hits during this storm. The San Lorenzo River, which runs through the Santa Cruz Mountains has flooded and reached its second highest water level ever recorded. Throughout parts of Santa Cruz County, runoff continues to arise even after the rain stalls, prompting road closures and evacuations as mudslides and debris follow the storms.
In the midst of these severe conditions, technicians like Eric remain motivated, more than ever, to support their local communities and inspire hope as they preserve and work to restore essential services.
Eric works at the Comcast Network hub that keeps hundreds of thousands of Comcast customers connected to their Internet, TV, voice and home security. Comcast network requires commercial power, and all our hubs depend on generators to operate when the power goes out.
"Power is one of the most important things we need to keep our customers online and our network running smoothly," said Eric. "This week, we had to turn on our generators seven times due to the power outages.".
At 2:00 a.m. on January 10th, one of the hubs that serves nearly 20,000 customers, experienced a power outage last night and our technicians couldn't get access to it to turn on the generator because all the roads surrounding the hub were closed.
"Nobody had power in the area. I headed over to our hub but there were 30-50 trees down in our area. The first road closure that I encountered was due to a tree that fell on top of a car," said Eric.
Eric turned around and found another road only to encounter a road closure due to a mudslide. After driving for two hours through four different roads, Eric made it to our hub where he was able to turn on the generator and return services for 20,000 customers.
There are over 100 generators across Comcast's footprint to back up services when power is out.
Updates from other parts of Comcast's footprint:
Merced
Comcast offices in Merced are closed due to flooding. Nine technicians have been impacted by the weather, having to cancel their service appointments. However, our technicians located in Los Banos will respond to any trouble issues.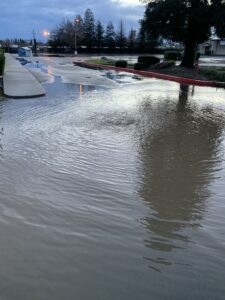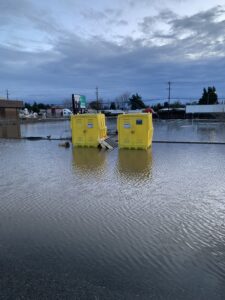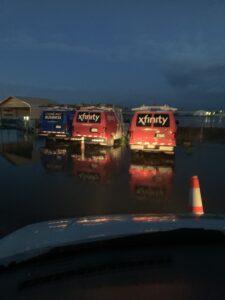 San Jose
Our Xfinity store located at 1600 Saratoga Ave Ste 32, San Jose, CA 95129 lost power during a power outage this morning that affected the Westgate Mall, but it was restored at 12:15 PM and is doing business as usual.
We understand these power and services outages are a painful inconvenience and want to assure you that our teams are committed to restoring your services as quickly and safely as possible. Like Eric, there are hundreds of Comcast technicians and employees working around the clock in dire conditions to assure your services are up and running.