Comcast Business has been recognized as a Leader by research and consulting firm Frost & Sullivan in its 2022 Frost Radar™: Managed SD-WAN Services in North America report. The Frost Radar™ summarizes key trends in a specific technology market and serves as a buyer's guide to inform decision makers on key players and their position in the market. The full report is available for download here.
"Comcast Business continues to establish itself as a leader in managed SD-WAN and, with its white glove service and customer focus, is translating well in the larger enterprise market," said Stephen Thomas, Sr. Industry Director, Network Services, Frost & Sullivan. "Its acquisition and integration of Masergy has also proven helpful overall given Masergy's solid reputation, industry leading SLAs and leadership in customer self-portal technologies."
The Frost Radar™ recognizes Comcast Business as a Leader among the top twelve North American Managed SD-WAN providers. The report highlights several key differentiators for Comcast Business including its position as the second-largest provider of SD-WAN connections in North America, its reputation for success among enterprise customers with 250 or more sites, as well as its strategic acquisition of global SD-WAN leader, Masergy and the resultant portfolio enhancements and expanded partner ecosystem for SD-WAN and Cloud solutions it has enabled.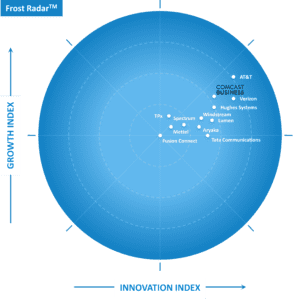 "We're proud that Frost & Sullivan recognizes our commitment to and growth in the Managed SD-WAN solutions market. This further validates our position as a leader in global secure network solutions," said Bob Victor, Senior Vice President, Customer Solutions, Comcast Business. "Comcast Business is the fastest growing managed SD-WAN provider in the US, offering a fresh alternative to legacy telco solutions. The Frost Radar™ further supports this position and validates why enterprises can confidently partner with Comcast Business for managed secure SD-WAN services."
Comcast Business can design, build, implement, and manage custom solutions tailored to an enterprise's unique needs. Through simplified management and next-gen offerings, Comcast Business helps drive key business initiatives from digital transformation and customer experience to cloud and security.
To learn more about Comcast Business Managed Services, please visit: https://business.comcast.com/enterprise/products-services/managed-services