This year's Pride celebration might look different, but the spirit of honoring equality transcends any physical barrier. While the pandemic has impacted many aspects of our lives, at Comcast, we are proud to celebrate with our LGBTQ+ community on this landmark celebration, the 50th anniversary of Pride Month—even if it's in a virtual setting.
Through partnerships with the San Francisco Pride Parade and Festival, the Commonwealth Club and Out in the Bay, plus the curation of special LGBTQ+ programming for our Xfinity X1 customers, and our active employee outreach efforts, we continue to celebrate with pride.
Comcast continues its ongoing history of being a proud supporter of San Francisco Pride Parade and Festival. As part of Comcast's support this year, Xfinity is the Heritage level sponsor of the 2-day Online Celebration & Rally taking place on June 27th and 28th. This includes the additional sponsorship of the Soul of Pride, a community-programmed stage that celebrates the diversity of LGBTQ+ culture. The organizers of the SF Pride Parade and Festival will produce more than 13 hours of programming that will be streamed through SF Pride's website. The content will pay tribute to LGBTQ+ luminaries and queer activists and will be hosted by some of San Francisco's most iconic drag queens and activists. OUT, Comcast's employee resource group, also proudly supports the 25th annual lighting of the Pink Triangle, the iconic public art installation atop Twin Peaks in San Francisco.
Comcast California has partnered with Out in the Bay, an LGBTQ+ focused radio and podcast program that covers news and culture through interviews with artists, celebrities, historians, authors, activists, and everyday people with interesting stories in the Bay Area. Comcast's sponsorship of this beloved program has enabled it to return to the airwaves on San Francisco Public Press radio (KSFP) every Wednesday. Through this collaborative effort, we will continue uplifting the stories and voices of our LGBTQ+ community.
Additionally, Comcast has partnered with the Commonwealth Club in San Francisco to organize a series of virtual events for Pride Month. The Lavender Talks will include conversations about the significance of the San Francisco LGBTQ+ cultural districts, an interview with past presidents of SF Pride about the organization's first 50 years, a discussion about LGBTQ+ immigrants, and a celebration of SF Pride's "Pride 50" honorees.
For Xfinity X1 and Flex customers, the 'LGBTQ+ Film & TV' destination brings together all of the LGBTQ+ film, TV, music, and web content available on Xfinity X1 into one place. During Pride Month, the destination features a curated selection of award-winning movies, documentaries, biopics, and television series featuring LGBTQ+ programming. First available through NBCUniversal's streaming service Peacock, you can watch Zoey's Extraordinary Playlist, Will & Grace, and A Little Late with Lilly Singh and much more! X1 and Flex customers can access the destination by saying "Pride" into the Xfinity Voice Remote or across devices via Xfinity Stream. Content availability may vary across Xfinity TV platforms (X1, Flex, and the Xfinity Stream app).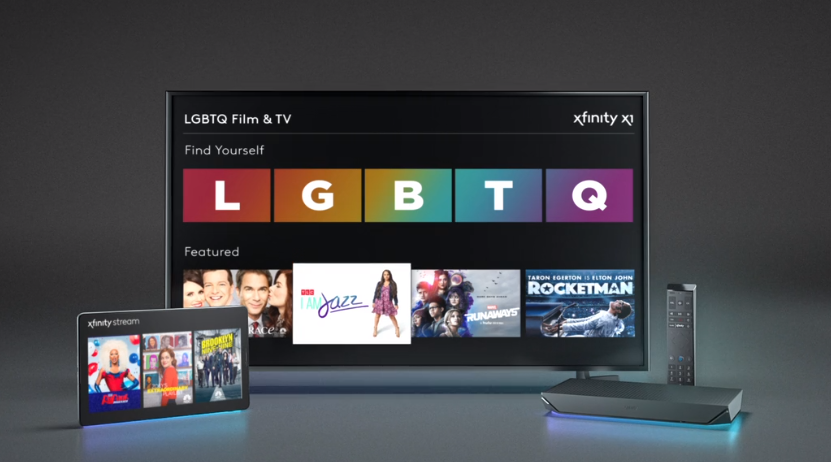 In celebration of Pride Month, members of OUT, the LGBTQ+ focused Employee Resource Group (ERG) at Comcast, will come together to enjoy virtual convenings that include a three-part career development series, a virtual discussion with special speakers, and a virtual panel with community leaders who will discuss topics such as the history of Pride parades, what authenticity means in the workplace, LGBTQ+ representation in the media, and more. Founded in 1986 as one of the nation's first LGBTQ-focused ERGs, OUT helps support and promote an inclusive and collaborative company culture.
Learn more about how Comcast is supporting our LGBTQ+ community by clicking here.